Madison Consolidated High School
Class Of 1971
In Memory
Janice Phillips (Jenkins)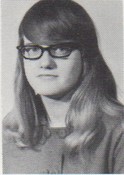 Janice Lea (Phillips) Jenkins entered this life May 31, 1952 in Denver, Colo., daughter of the late Charles and Deane Phillips. She passed from this life on Sept. 15, 2013, at the age of 61.
Janice was a resident of Madison, Ind., until 1973 and a 1971 graduate of Madison Consolidated High School. From 1973-82, Janice served in the United States Army. During her years of service, she was stationed in the Philippines and Germany among other assignments. In 1982, she received an honorable discharge, ending her military service in Hinesville, where she resided until 2012.
During Janice's time in Hinesville, she and her late husband were active in the Boy Scouts of America. She also was well-known as an Avon representative for many years. After many happy years of marriage and the passing of her husband, Janice returned to Madison and remained there until God called her home.
Janice was preceded in death by her husband of 20 years, Harris (Jay) Jenkins; her parents; and her loving dog, Angel.
She will be greatly missed by her daughters, Jamalee (Arthur) Golden of Hinesville and Chiquita Jenkins of Radcliff, Ky.; sons, Michael (Betty) Roberts of Hinesville and Ontia (Collita) Jenkins of Lake City, Fla.; cousin and best friend, Robbie (Dean) Lovins of Lexington, Ind.; special nephew, Guy Walton (Tammie) Hamilton; special niece, Mandi (Dalton) Braley; special great-niece, Annette Hite; 13 grandchildren; eight great-grandchildren; and a host of nieces, nephews, cousins and friends.
Viewing will be held from 1-5 p.m. Tuesday, Sept. 24, at Dorchester Funeral Home.
The funeral service will be held 11 a.m. Wednesday, Sept. 24, in the Frank V. Givens Memorial Chapel, Dorchester Funeral Home, 7842 E. Oglethorpe Highway in Midway. Interment will be in the Georgia Veterans Memorial Cemetery in Glennville.
Please note that at a later date, a memorial will be held at the home of Dean and Robin Lovins for family and friends in Indiana.
In lieu of flowers, please donate to the local animal shelter or disabled-veterans group in memory of Janice.
Dorchester Funeral Home of Midway has charge of the arrangements.